TAINY MAKES HIS AWARD SHOW PERFORMANCE DEBUT WITH HIT TRACK "DEJA VU" ALONGSIDE YANDEL AT PREMIOS JUVENTUD

(Photo Credit: Univision)
The three-time GRAMMY©️ nominee and winner
named one of Billboard's "The 50 Greatest Producers
of the 21st Century" with No. 10 spot
July 23rd, 2021 (Miami, FL) –  Industry-leading producer and artist, Tainy, delivered a show-stopping debut performance of his latest hit song "Deja Vu" alongside legendary artist Yandel off of the critically acclaimed collaborative album DYNASTY. The backlot stage was jam-packed with showstopping visual effects that added to the already celebratory union of both iconic artists who are honoring their 16-year hit-making relationship. Further boosting the energy brought forth by their performance, the Puerto Rican producer and artist, Tainy, won one award under the "Video Con El Mensaje Más Poderoso (Video with the Most Powerful Message)" category for his song "Un Dia (One Day)" with Dua Lipa, J Balvin, and Bad Bunny.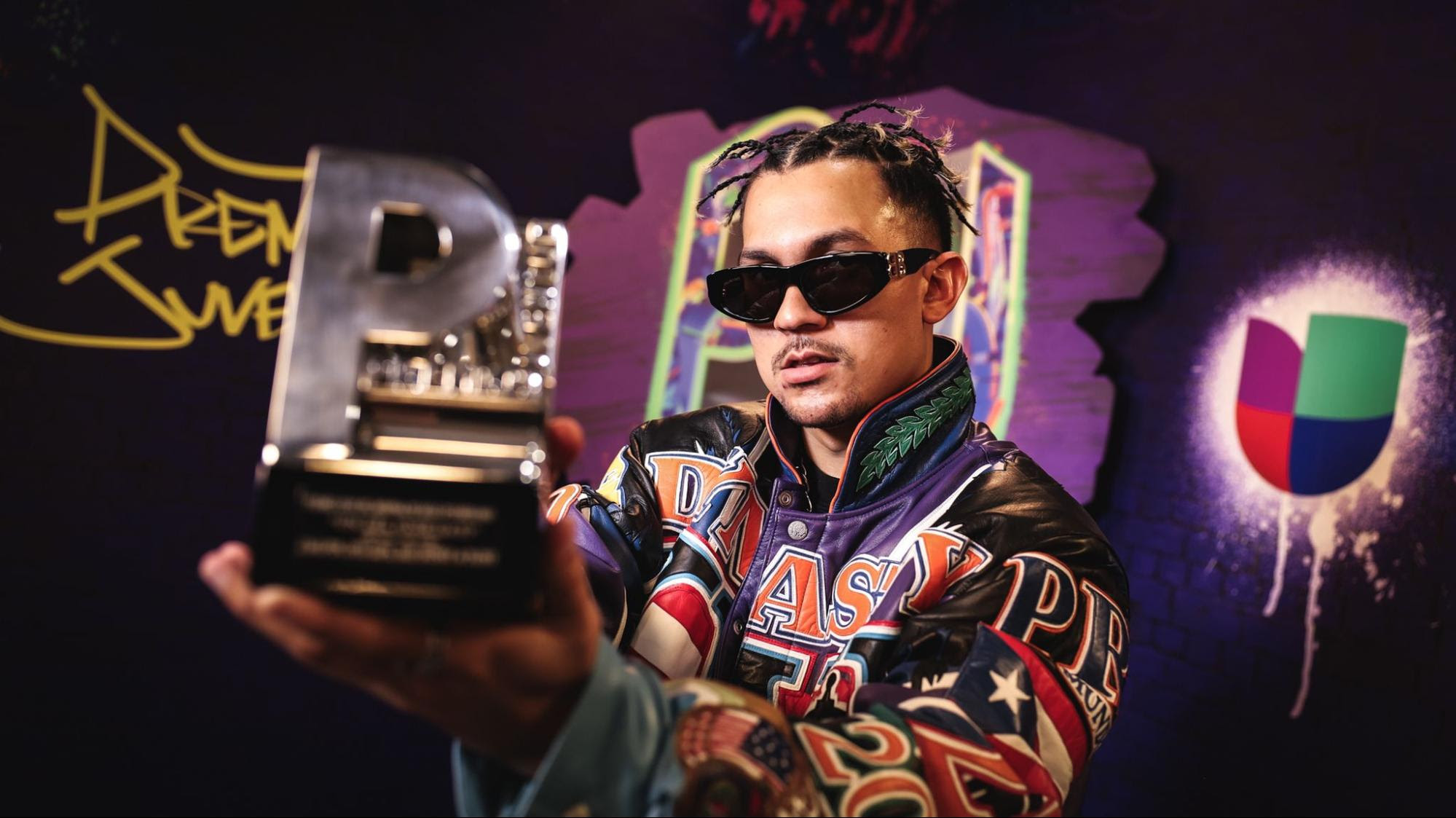 (Photo Credit: Univision)
Tainy and Yandel's production celebrated the critically acclaimed release of their highly anticipated joint album which boasts nine hit tracks that pay homage to their lengthy and emblematic careers. The first single off of the album, "Deja Vu" was inspired by the nineties Chicago Bulls and was one of the songs that they premiered in a historic kick-off event in Eco Sports Park in Puerto Rico and 13 stadiums across the United States and Latin America. At the destination in Puerto Rico where fans also got a sneak peek to "Si Te Vas," and the global premiere to "Deja Vu." The video featured custom special edition jackets designed by renowned fashion designer Jeff Hamilton, whose crafted jackets have been seen on NBA legends such as Michael Jordan, Kobe Bryant, and Lebron James.
The two tastemakers joined forces with heritage American sportswear brand Starter for their limited-edition collaboration exclusively with Greenhouse and Foot Locker. The one-of-a-kind collection sought to bring an elevated design to throwback Starter streetwear silhouettes and was released on July 9th where Tainy and Yandel hosted a meet and greet for fans at the Foot Locker flagship store in Times Square powered by Puma. The event had over 250 fans in attendance.
Further adding to Tainy's success in 2021, he was recently named by Billboard as one of The 50 Greatest Producers of the 21st Century taking the No. 10 spot for his "ever-experimental" production style which merges the old Reggaeton sounds with the new as well as incorporating more mainstream elements like trap, pop, and rock. Tainy, who is one of the only Latin producers to make the list, sits in the top 10 alongside Kanye West, Timbaland, Pharrell Williams and Max Martin.